Air Filter Holding Frame Clips & Hardware
In an era where airborne illnesses and environmental pollution pose increasing threats to our well-being, the role of air filters in safeguarding our health has never been more critical. We understand the importance of clean and purified air. That's why we take pride in designing, manufacturing, assembling, and packaging top-notch filter clip hardware.

Our dedication to air quality enhancement extends to some of the world's largest air filter manufacturers, HVAC equipment manufacturers, HVAC contractors, and air filter distributors. We serve as an indispensable partner, offering not just quality hardware but also engineering and application assistance to tailor standard filter clip designs to your unique needs.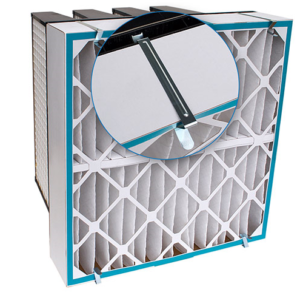 Our Air Filter Holding Frame components, including P-clips, 12″ extension springs with and without brackets, corner brackets, bag filter clips, wire forms, and more, are meticulously crafted to ensure a tight and secure fit. This precision prevents bypass or air seepage around the filter, guaranteeing that the air you breathe is free from contaminants.
Our components are trusted by commercial and industrial air filter manufacturers, air filter distributors, and HVAC contractors worldwide. We are committed to providing solutions that elevate air quality standards, making environments safer and healthier for all. If you're seeking expert guidance or require customized filter clip designs, our knowledgeable inside Customer Satisfaction Associates are just a phone call away at (413) 525-6837 or send us a message here. Contact us today to explore how we can contribute to cleaner, purer air for your specific needs. Together, we can breathe easier and live healthier.
Introducing Versa-M and our new SureGRIP line of Pre Filter Clips
Learn more about what critical to function means to us
It's not just a stamping, it's not just a wireform, it's not just a spring. It HAS to work. You can't risk your medical or defense product to not work every time. At Springfield Spring, we partner with your team to solve your most complex problems. Our products are tested and engineered to work every time as they're supposed to function. We strive to make the best springs, stampings, wireforms and fourslide parts.