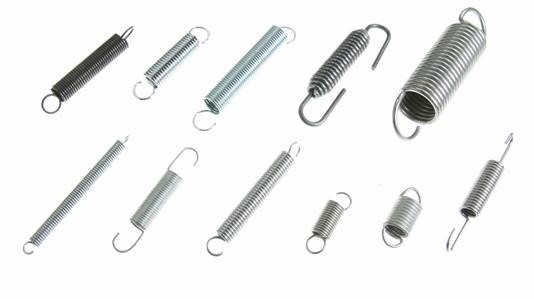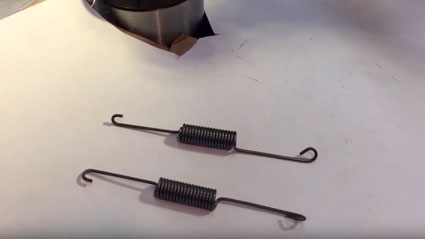 Extension springs are helical wound coils, wrapped tightly together to create tension. Extension springs are designed to resist a pulling force, returning to a tightly wound coil when the force is removed.
Custom extension springs from Springfield Spring & Stamping are manufactured on state-of-the-art CNC wire forming equipment (for example, the CNC Itaya Wire Former; the CNC Orimec MLS-10V). This allows us to offer a wide variety of custom extension spring options with various end types; our custom extension springs are available with machine, crossover, side, or extended end options.
Materials
The highest grades of spring wire are used in manufacturing Springfield Spring & Stamping products. "Spring steel" is a term that includes music wire, hard-drawn wire and oil-tempered wire. Alloy steels for stock extension springs are offered only in 300 series stainless steel. For custom extension springs, we offer several steel and metal options depending on your specifications.
Tolerances
Tolerances for extension spring rates depend upon the body-diameter to wire-diameter but are usually +/- 10% and +/- 5% on the diameter. The initial tension is much more difficult to control and is offered as a reference value only.
End Configuration
The hooks or loops may have an across center transition of the last coil before forming the hook or loop. The angle between hook/loop planes (end position) is random. If you need a specific end configuration on your custom extension spring, please contact our custom spring department directly.
Note: These are sample values, and will be replaced.
Wire Diameter Min
Wire Diameter Max
Spring End Types
.008 in
.201 mm
.135 in
3.4 mm
Machine
Crossover
Side
Extended
Direction of Helix
Spring Materials
Finishes
Left
Right
Music Wire
Pre Tin-Coated Music Wire
Pre-Galvanized-Coated Wire
Hard Drawn MB
Oil Tempered
Stainless Steel
Phosphor Bronze
Beryllium Copper
Brass
Black Oxide
Duirem Color Code
Manganese Phosphate
Nickel Plating
Painting
Passivation
Phosphate w/ Oil
Powder Coated
Tin
Varnish
Zinc (Clear and Yellow)
Equipment
Secondary Services
Industry Focus
CNC Machinery (Itaya Wire Former and Orimec MLS-10V)
SPX-Z11
22000 sq-ft Facility
Pre-Qualifying Engineering
Cost Reduction Programs
Statistical Process Control (SPC)
International Shipping
Automative FMEA and PAPP
Computer Hardware
Pneumatic Tools
Medical Devices
Industrial Controls
Wiring Devices
Electronics
Imaging Equipment
Surgical Instruments
Aerospace
Timing Devices
Head Sets
Printed Circuit Boards
Telecommunications
Windows/Screens
Hand Tools
Automotive
Musical Instruments
Houseware
Oil Filters
Pumps
Photographic
Lawn and Garden Tools
Toys
Forklifts
Valves
Firearms
Military Hardware
Fasteners
Instrumentation
GI Endoscopy
Lighting
Elevators
Battery Chargers
Locks
Switches/Solenoids
Insert Molding
Air Filter Hardware
Electric Coils
Contract Manufacturing
Laser Toner Recharge
Ribbon Cassette
Production Volume Min
Production Volume Max
Industry Standards
1 unit
Speciality Production Shop
Prototype (Rapid Prototyping for Design Qualification)
Millions of units
Low Volume
Small Run
High Volume
Long Run
ANAB Accredited
ANSI/ASQ National Accreditation Board
ASTM
American Society for Testing and Materials
DFARS
Compliant
ISO
International Organization for Standardization (ISO 9001:2008)
ITAR Registered
International Traffic in Arms Regulations
Mil-Spec
Military Specifications
NMSDC-Certified
National Minority Supplier Development Council
RoHS
Restriction of Hazardous Substances (Compliant)
REACH
Registration Evaluation Authorization and Restrictions of Chemicals
SAE
Society of Automotive Engineers
SBA-Certified SDB/MBE
Small Business Administration
File Formats
We utilize CADKEY Creator and can translate most of the common CAD files for use
AutoCAD (DWG and DXF)
BMP
Bit Mapped Graphics
GIF
Graphics Interchange Format
IGES
JPG or JEPG
Joint Photographic Experts Group
PDF
TIFF
Tagged Image File Format