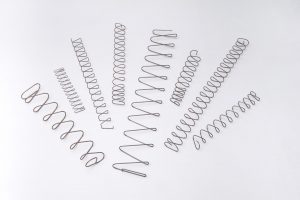 Springfield Spring & Stamping has developed a host of innovative engineering and testing techniques to unravel the mystery surrounding the design and qualifications of magazine springs.
Request a Quote
Much of this work has been done in junction with some of the largest firearm and magazine manufacturers in the United States. When we first got involved with manufacturing magazine springs, we saw that the firearms industry developed, tested and qualified magazine springs with a significant amount of "black magic" or "witches brew".
Are you Engineering & Developing Magazine Springs the Old Fashioned Way?
Magazine spring drawings we reviewed were "legacy" drawings passed down from years gone by. There was no universal spring design engineering software to help engineers qualify magazine springs on paper like traditional helical spring designs. People were working in the dark. There was no way to pre-determine things such as: spring rate, load conformity, solid height, stress, twist, stack, coefficient of friction (etc.)
The generally accepted qualification standards for magazine springs focused more on extracting the last bullet when the gun was fired for X – number of rounds. We had a decision to make. (1.) Follow the crowd and blame the designer if it did not work or (2.) Use a Sig Sigma (DAMIC) approach to create our own means of removing the dreaded "Black Magic" from these funny looking oval wound springs.
Armed with an engineering and discovery mission we dug in and started to develop measurable data and procedures for qualifying and testing magazine springs.
We built special fixtures mounted to our standard spring force testers.
We tested linear wound magazine spring and conical (reduced end) springs.
We measured spring forces and solid height forces inside and outside of the magazine housing with and without dummy rounds.
We built special set out fixtures to remove set – thus saving the customer time and money.
We measured for twist before set out and post set. We tested springs with batch stress relieving and in-line stress relieving.
Why Choose Our Magazine Springs
All of our magazine spring engineering and testing procedures data is documented and shared with our individual customers.
We have successfully replicated numerous well-known magazine manufactures. Some of these include: Sturm Ruger, Meg-Gar, Sig Sauer, Smith & Wesson, Remington, Glock, Checkmate (etc.) We have spent in excess of $2 million on new state-of-the art, CNC-controlled wire forming equipment to support our growing production requirements for magazine springs.
As an added bonus, you can now trace any of our magazine springs to any of our customers' final assemblies—straight through to the end-use customer. If our spring fails in a magazine, we can help our customer back up the complaint with measurable and traceable data.
In short, we have effectively turning the "witches brew" into measurable Statistical Performance Capability!
Wire Diameter Min
Wire Diameter Max
Spring End Types
.008 in
.201 mm
.135 in
3.4 mm
Closed End Ground
Closed End Unground
Open End Ground
Open End Unground Ground
Direction of Helix
Spring Materials
Spring Shape
Left
Right
Music Wire
High Tensile Music Wire
Pre Tin-Coated Music Wire
Pre-Galvanized-Coated Wire
Hard Drawn MB
Oil Tempered
Stainless Steel
Phosphor Bronze
Beryllium Copper
Brass
Inconel
High Temperature Alloys
Chrome Vanadium
Round-Round Wire
Oval-Round Wire
Rectangular-Round Wire
Finishes
Equipment
Secondary Services
Black Oxide
Dykem Color Code
Manganese Phosphate
Nickel Plating
Painting
Passivation
Phosphate w/ Oil
Powder Coated
Tin
Varnish
Zinc (Clear and Yellow)
CNC Machinery
Manual Machinery
22000 sq=ft Facility
Pre-Qualifying Engineering
Cost Reduction Programs
Statistical Process Control (SPC)
International Shipping
Automotive FMEA and PAPP
Production Volume Min
Production Volume Max
Industry Focus
1 Unit
Specialty Production Shop
Prototype (Rapid Prototyping for Design Qualification)
Millions of Units
Low Volume
Small Run
High Volume
Long Run
Computer Hardware
Pneumatic Tools
Medical Devices
Industrial Controls
Wiring Devices
Electronics
Imaging Equipment
Surgical Instruments
Aerospace
Timing Devices
Head Sets
Printed Circuit Boards
Telecommunications
Windows/Screens
Hand Tools
Automotive
Musical Instruments
Houseware
Oil Filters
Pumps
Photographic
Lawn and Garden Tools
Toys
Forklifts
Valves
Firearms
Military Hardware
Fasteners
Instrumentation
GI Endoscopy
Lighting
Elevators
Battery Chargers
Locks
Switches/Solenoids
Insert Molding
Air Filter Hardware
Electric Coils
Contract Manufacturing
Laser Toner Recharge
Ribbon Cassette
Industry Standards
File Formats
ANAB Accredited
ANSI/ASQ National Accreditation Board
ASTM
American Society for Testing and Materials
DFARS
Compliant
ISO
International Organization for Standardization (ISO 9001:2008)
ITAR Registered
International Traffic in Arms Regulations
Mil-SPec
Military Specifications
NMSDC-Certified
National Minority Supplier Development Council
RoHS
Restriction of Hazardous Substances (Compliant)
REACH
Registration Evaluation Authorization and Restriction of Chemicals
SAE
Society of Automotive Engineers
SBA-Certified SDB/MBE
Small Business Administration
We utilize CADKEY Creator and can translate most of the common CAD files for use
AutoCAD (DWG and DXF)
BMP
Bit Mapped Graphics
GIF
Graphics Interchange Format
IGES
JPG or JEPG
Joint Photographic Experts Group
PDF
Portable Document Format
TIFF
Tagged Image File Format