Springfield Spring & Stamping's magazine springs are manufactured to your exact specifications and available in quantities from single units into the millions.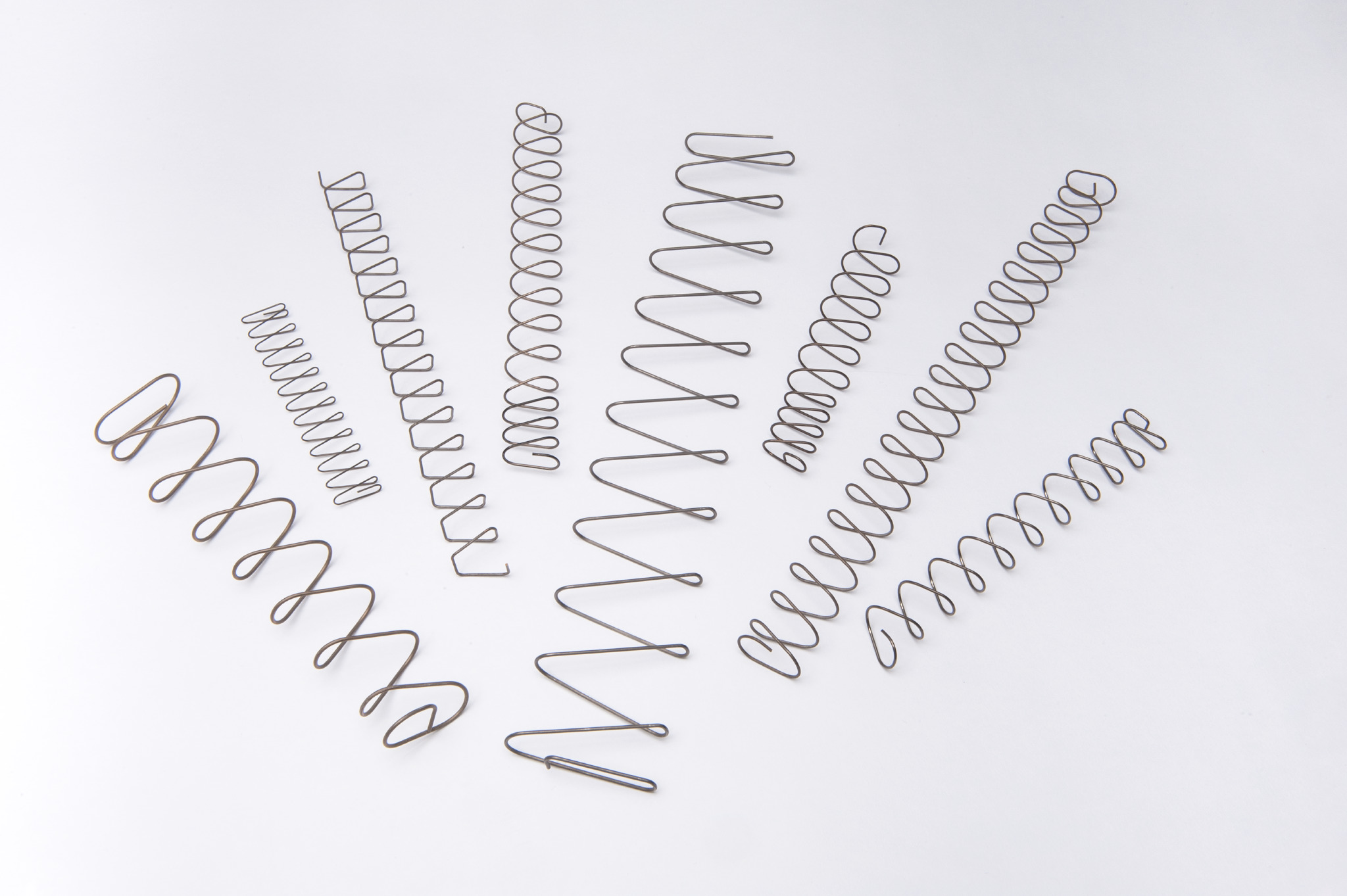 Capabilities
At Springfield Spring & Stamping, wire diameters can range from .008″ to .135″ (.201 to 3.4 mm). Magazine springs can be crafted in many materials, from high-temperature alloys to music wire, with an equally expansive variety of coatings to choose from. 
Why Choose Us?
Springfield Spring & Stamping is committed to helping you get the custom magazine springs you need. Through our MagMed program, our engineers can identify alternative materials, tolerances, and manufacturing methods to make your custom spring production more economical.
Get Started
International shipping is available! For additional information about our custom springs or other products we offer, contact us today!
Engineered Ammunition Delivery Systems
Some call it a Magazine Spring, we refer to them as Engineered Ammunition Delivery Systems.  
Using state-of-the-art CNC-controlled machinery and Solidworks CAD software, Springfield Spring & Stampings Engineering and Production Teams have developed an innovative magazine spring qualification program capable of helping customers significantly reduce the amount of time necessary to bring new magazine springs to the market. Our MAGMED program offers:
Rapid Prototyping – 1 to 2 weeks to optimize form, fit & function
Magazine Spring design assistance (All Calibers / Multiple Rounds)
Material selection (High Tensile Missile Music Wire, 17-7 Stainless Steel)
Single & Double Stack Configurations 
CAD-based drawing assistance
OEM Reverse Engineering
Dynamic & Static Load Testing
Surface coatings (Passivation – Dry Film Lubrication – Black Oxide)
Special packaging to minimize entanglement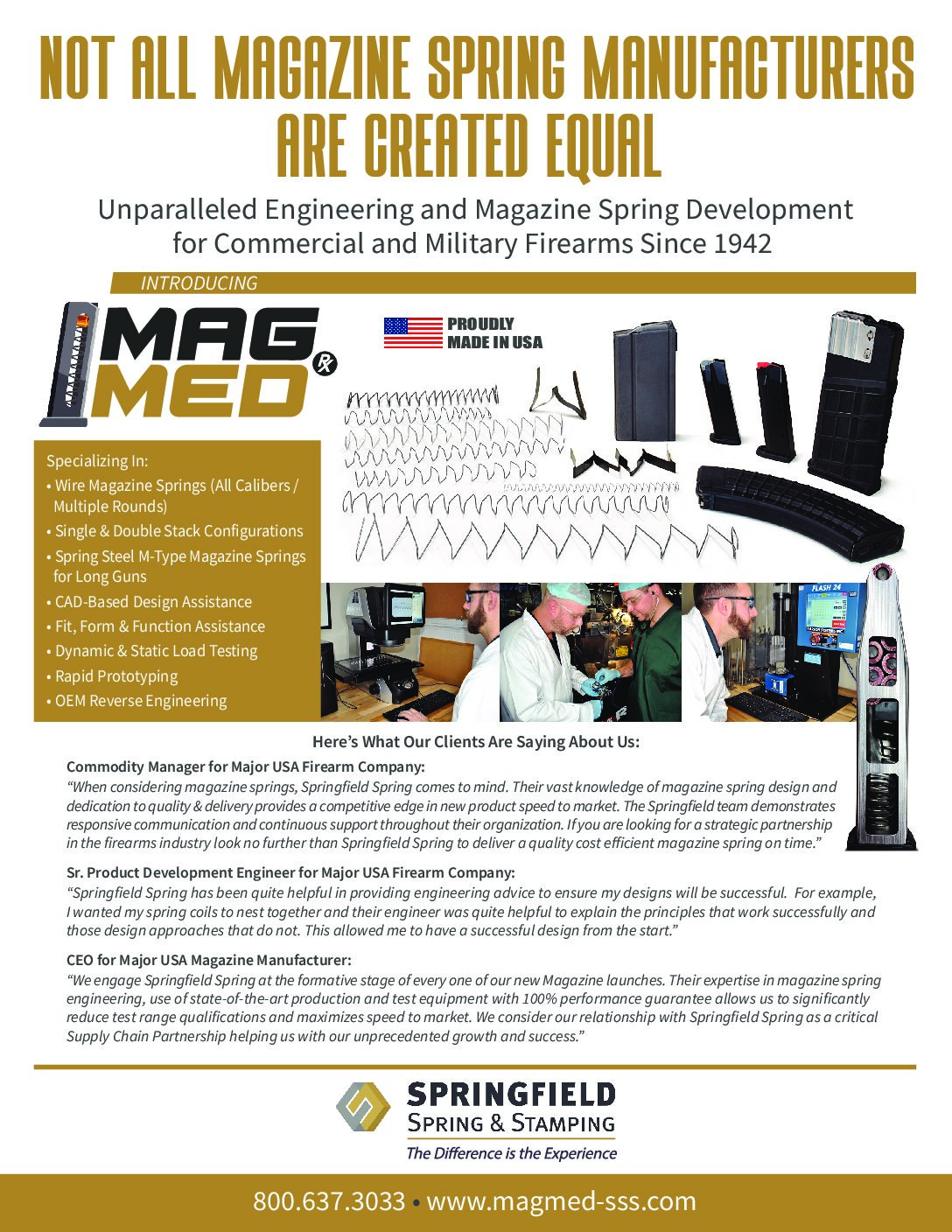 What material types are available for magazine springs?
Magazine springs can be made from any of the following materials:
Music Wire

High Tensile Music Wire

Pre Tin-Coated Music Wire

Hard Drawn MB

Oil Tempered

Stainless Steel

Phosphor Bronze

Beryllium Copper

Brass

Inconel

High Temperature Alloys


Chrome Vanadium
What are wire diameter capabilities for compression springs?
Our wire diameter capabilities range from 0.008″ to 0.135″
Wire Diameter Min.

.008 in
.201 mm

Wire Diameter Max.

.135 in
3.4 mm
What file types are acceptable for submitting a drawing?
We utilize CADKEY Creator and can translate most of the common CAD files for use. Here is a complete list of file formats we can work with:
AutoCAD (DWG and DXF)




BMP




Bit Mapped Graphics




GIF




Graphics Interchange Format




IGES




JPG or JEPG




Joint Photographic Experts Group




PDF




TIFF




Tagged Image File Format
Do you have the capabilities for secondary finishes on magazine springs?
Yes, all of our components can have additional processing based on the end application requirements. Some examples of secondary finishes for magazine springs are as follows:
Black Oxide




Color Code




Gold Plating

Manganese Phosphate




Nickel Plating




Painting




Passivation




Phosphate w/ Oil




Powder Coated




Tin




Varnish




Zinc (Clear and Yellow)
Interested in a secondary process not listed above? Reach out to our team and we can discuss together. 
What spring and stamping manufacturing equipment do you have?
A complete list of our equipment is as follows:   
Itaya MX-10, MX-20, RX-20 CNC Spring Forming Machines

Primera Precision ZX-250 CNC Spring and Wire Formers

Vinston CCM-12-236 R, CMM-12-450 R Camless Multi-Axis Rotary Wire Spring Formers

Nilson Four Slide 4 Ton, 5 Ton, 7 Ton, and 20 Ton

Bihler MK3 – B20-01-0001 Servo-controlled Stamping and Forming Machine

Fenn-Torin FZ Series CNC Spring Coilers

Moyer CNC Spring Grinders

MicroStudio MC54-30 Automated Setting and Sorting Machine

Tool and Die fabrication. CNC Machining, Wire EDM
Do you provide secondary services such as PPAPs for magazine springs?
Yes! Our team has experience conducting PPAPs. We also offer Pre-Qualifying Engineering Cost Reduction Programs, Statistical Process Control (SPC), and Automotive FMEA. 
What volumes are available?
Our volumes range from a single piece prototype to production volumes in the millions to everything in between.  
Learn more about what critical to function means to us
It's not just a stamping, it's not just a wireform, it's not just a spring. It HAS to work. You can't risk your medical or defense product to not work every time. At Springfield Spring, we partner with your team to solve your most complex problems. Our products are tested and engineered to work every time as they're supposed to function. We strive to make the best springs, stampings, wireforms and fourslide parts.