Springfield Spring & Stamping worked with the head of the design engineering team from one of the largest medical companies in the world to develop a special wire form used as part of an implant delivery system for one of their meniscal repair devices. This company specializes in the design and development of innovative arthroscopic medical devices and procedures to advance minimally invasive orthopedic surgical procedures.
The Challenge
This round stainless steel wire form has three reduced thickness transitions culminating with a flattened tip to receive an implantable component. This required developing a process for precision grinding the wire and swedge-flattening the end of the wire with critical tolerances on all transition features.
The most difficult manufacturing process was the flattened end of the wire. This required the thickness, width and length of the flattened surface meet critical tolerance requirements of +/- .002 to securely hold the implant for the delivery feature of the device. There is a left hand formed and right hand-formed bend at the end of the wires as well.
The Solution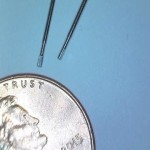 Springfield Spring & Stamping partnered with two strategic manufacturing partners to co-develop a special centerless grinding fixture and a precision die flattening process to meet all critical tolerance requirements.
The final operation required Springfield Spring & Stamping to develop a forming process to bend the opposite end of the flattened tip of the wire. This required a precise 90 degree bend at the opposite end of the flattened wire tip.
All processes were "validated" per the requirements of Springfield Spring & Stamping's ISO-13485 Quality Management requirements. Springfield Spring & Stamping has two additional stampings and a handle torsion spring in the final device as well.
The finished device is now in the hands of surgeons around the world functioning with the expectations and reliability associated with the device manufacturer's name. Challenge solved!