As leaders in precision manufactured springs, wire forms, and stampings, Springfield Spring Corporation is committed to providing our customers with exceptional service, quality, and value. To help achieve this goal, SSC implemented a robust, metrics-driven Quality Management System, which is certified to both ISO 9001 and ISO 13485. Our system promotes a quality oriented, process driven, and continual improvement minded company culture.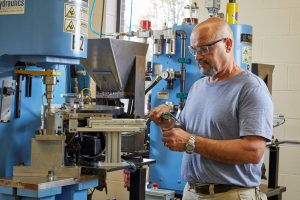 SSC has the knowledge, equipment, and documentation to support our customers operating within critical applications and highly regulated industries. Product and process validation such as IQ/OQ/PQ or PPAP are available, upon request.
SSC continually invests in new technology, providing our customers with precise and repeatable processes and data.
We employ state-of-the-art, automated spring testers to verify product characteristics. These testers yield repeatable and reproducible measurement data which is crucial to the product development and manufacturing process.
SSC also utilizes programmable laser measurement devices to capture part data quickly and accurately. These devices remove the operator-to-operator interaction from the measurement system which gives us the ability to collect more data, faster, and without the potential for human error.
Why Choose Springfield Spring Over Other Wire Forming Companies?
Springfield Spring Corporation offers a high degree of technical manufacturing abilities along with direct engineering support, putting us among the leading custom spring, stamping, and wire form manufacturers. Let us help you handle the most challenging projects at a cost-effective price, without sacrificing quality.
Springfield Spring & Stamping Certifications
If additional information is required, please contact Alex Koulgeorge at alex@springfieldspring.com