Springfield Spring & Stamping continues to invest heavily in the very latest state-of-the-art CNC manufacturing technologies to accurately produce complex torsion springs, extension springs, compression springs and wire forms. Years ago, manufacturing springs and wire forms with 3 dimensional configurations required a host of costly tooling and secondary forming operations to achieve what our current equipment can now do automatically. Adding this equipment to our suite of manufacturing capabilities offers our customers the versatility of engineering and designing springs and wire forms that can optimize the functionality of their devices and products. This saves time, reduces cost and decreases time for new product introductions. Here is an example of a complicate and challenging spring we produced on our new CNC-controlled Itaya RX20 wire forming machine. 
The Challenge
Our customer approached us with a spring that required the functionality of a traditional extension spring with end configurations that deviated from typical extension spring looped ends. This particular spring required each end to have different formed bend geometry with three dimensional angles. The extension spring's forces, dimensions, radiuses and tolerances were critical to the fit & functionality of the spring in its application.
The Solution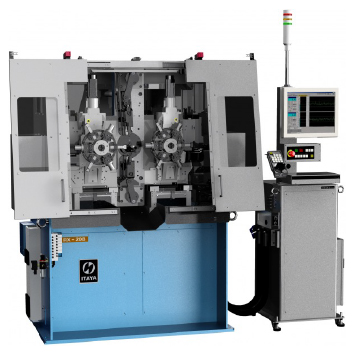 The innovative Engineering and CNC Wire Forming Technicians at Springfield Spring & Stamping chose to manufacture this spring in their new state-of-the-art CNC-controlled Itaya RX20 wire forming machine. This 15-axis machine has 2 separate turrets, each with 6 independent forming and winding stations. Servo slides and a rotary wire-feed mechanism allows parts to be formed on an X, Y or Z axis. A Laser Imaging System is utilized for automated tolerance detection as parts are being made. Every program is saved and backed up on the machine and on the company's Server for ease of multiple set ups.
Challenge Solved!
Watch this spring being made on our Itaya RX20 Wire forming machine.