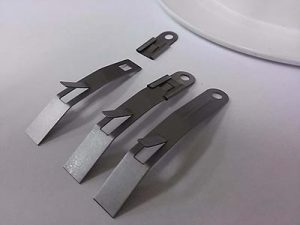 Share/Downloads
Effective Lighting Solutions though Innovative Design
Springfield Spring & Stamping worked diligently with the design engineering team from one of largest lighting companies in the USA to develop an innovative spring clip for one of their high-volume commercial and residential recessed lighting fixtures.
The Challenge:
Recessed lighting fixtures traditionally use 2 large torsion springs attached to the light fixture to accommodate the lowering of the assembly face to change out light bulbs. These torsion springs require additional hardware in the mating light assembly to mount. The torsion springs are cumbersome to install, costly and unreliable. Lighting companies are rapidly moving towards the use of long-life LED lighting. This also brought about a move towards the use of spring-tempered "friction clips" to hold the light assembly up into the lamp housings.
The Solution:
Springfield Spring & Stamping co-engineered a special low-cost friction spring clip to accommodate our customer's introduction of their friction clip to the recessed residential and commercial lighting market. Originally specified from high-cost stainless steel, Springfield Spring & Stamping suggested the use of a proprietary domestic-sourced pre-tempered and pre-plated spring steel material for this application. The spring clips were designed with compound angle configurations and an integral lance to allow the friction clips to achieve maximum holding power with the added versatility of accommodating various receptacle housings. This original design led to a 2-piece patented friction clip design. The new and improved spring clip is inexpensive, functional and installation-friendly. Challenge solved!
Project Specifications
Click to Expand
Click to Collapse
Product Description
These clips come in 2 different sizes and are used to hold recessed light fixtures up into the lamp housing.
Primary Development
Co-developed original concept for 4" and 6" clips.
Co-developed "patented" 2 –piece design for 6" clip.
Spring was developed with integral lance feature.
Compound angles to improve grip pressure.
Integral lance to improve lamp size versatility.
Manufactured concept prototypes.
Production
Tightest Tolerance
Material Used
S1 F Fourslide Machine with Integral Die Section
+/- .015 Linear
+/- 3 Degrees Angular
.020 Pre-Tempered and Pre-Galvanized Coated Spring Steel
In Process Testing/Inspection Performed
In Process SPC
Pokey Yoke Gauging
Keyence Vision System
Benefits
Inexpensive
Easy to Install
Efficient Fastening System