Springfield Spring & Stamping worked on a special project with the design engineering team for a major firearm company at the formative stage of a "critical-to-function" hammer spring application.
The Challenge
Springfield Spring & Stamping manufactures a large variety of double torsion springs for some of the leading firearm companies in the United States. Traditional torsion springs are manufactured with the legs on the outside of the coils with the cross bar in the center (see picture at right).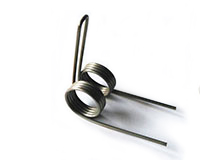 Our customer had a completely different hammer spring concept they wanted to explore. This would require the outside legs of the double torsion spring to be re-oriented into the middle of the two outside coils as shown on the larger inset picture at the top of this page.
Our customer let us know that all the other spring companies they do business with informed them that this type of double torsion spring could not be produced with the free legs in the center of the outside coils.
The Solution
Springfield Spring & Stamping had recently purchased a new state-of-the-art CNC controlled wire forming machine that offered us a host of manufacturing capabilities outside of the forming capabilities limited with our traditional CNC wire forming machines.
This new and innovative machine has 16 axes situated on 2 individual compound tables which control the X & Y movement of the forming stations. The machine has 1 axis for wire feed, 1 axis for rotary wire, 1 axis for rotary quill and 2 servo spinners for maximum flexibility. In the "lingo" of our wire forming engineers, this just means that we can minimize tooling and set up costs combined with the ability to accurately manufacture more complex wire forms, torsion springs and double torsion springs for our customers.
Our teams designed special tooling and wrote the program for our machine to accurately produce the firearm – double torsion – hammer spring with the free legs in the center. Our customer was extremely delighted with the fit and functionality of this new hammer spring concept. Parts will be formally integrated into their new firearm platform. Challenge solved!