Springfield Spring & Stamping is pleased to announce the addition of our newest Wire EDM machine to our company's tooling capabilities. This is our second, in-house, Wire EDM machine. The addition of our new Agie Charmilles Cut E 350 Wire EDM machine offers us the ability to design tooling for Six Sigma, decreases tooling lead times, hold tighter part-dimension tolerances and speeds tooling maintenance. This second machine also augments our ability to cut flat blanks in-house for our "Rapid Stamping Prototypes" (RSP) department.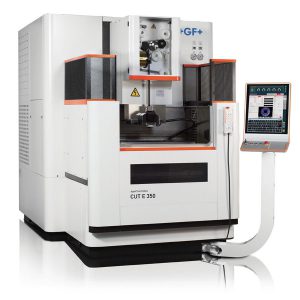 As our firm continues to expand our equipment infrastructure, we remain committed to purchasing and maintaining the most "state of the art" equipment available. This investment strategy offers us the ability to ensure maximum performance and efficiency with our equipment to service the growing needs of our customers.
At Springfield Spring & Stamping, our approach to "Best-In-Class" quality and service includes a multidisciplinary team of Black Belt-Certified Engineers to readily address the projects and needs of our customers. Our teams use Six Sigma, Lean Manufacturing and other tools to efficiently help our customers navigate concepts into reliable and validated production solutions.