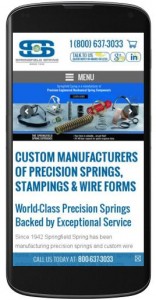 Springfield Spring, located in East Longmeadow, Massachusetts is excited to announce the launch of their new mobile-friendly website. The 70-year-old spring manufacturing company also manufactures wire forms, stampings, and light assemblies. The newly redesigned website features an improved user experience for their site visitors as well as quotation cart functionality that allows Springfield Spring to add leads to their database. The site allows the company to create and share their content as well as promote their social media presence, setting themselves apart from other spring manufacturers.
Springfield Spring pledges to consistently deliver high-quality components and offer the best quality service to their customers. Now, with the help of their new website, they can provide their customers and prospects the best possible business interaction online. The company's air filter holding frame clip quote cart, differing from a shopping cart, allows users to browse the site, add items to their cart, leave the site, and then return to the items they are interested in. 
"This new website benefits both our business and our valued customers by providing the new custom quote option," said President, Norm Rodriques. He adds, "We save time, allowing us to spend more time working with our customers instead of quoting projects. Now our clients can get an accurate quote instantly. This advanced new site is great for every part of our business, and we can't wait to hear what our customers think of it."
Springfield Spring, the leaders in engineered spring products are ISO 13485:2016 Medical and ISO 9001:2008 certified. They pride themselves on their exceptional customer service, guaranteed with every project they work on. For a quote or help designing your next component, contact Springfield Spring using their contact form or give them a call at 1-800-637-3033.