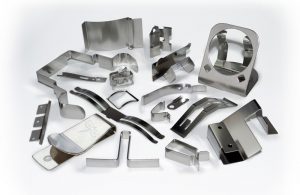 Share/Downloads
Springfield Spring & Stamping manufactures a wide variety of precision-engineered stampings, brackets, clips, flat springs and battery contacts for a broad cross-section of industries. All of these components are tooled in house and manufactured on fourslide and multi slide machines.
Why Springfield Spring & Stamping?
ISO 9001:2015 & Medical ISO 13485:2016 registered quality management systems
In-house CAD tooling design
State-of-the art WIRE EDM & HAAS machines
Engineering design assistance, tolerance review & Design for Manufacturability (DFM)
Internal Model shop for prototypes
24 – 48 hour RFQ response time
Industries Served:
Medical, Commercial, Industrial, Automotive, Lighting, Hardware, Battery Contacts, Firearms
Materials:
Spring tempered 301 stainless steel, 304 annealed stainless steel, 316 stainless steel, 316L stainless steel, 410 stainless steel, 420 stainless steel, 1050/1074 spring steel, brass, copper, beryllium copper, phosphor bronze
Springfield Spring & Stamping parts meet the strictest drawing tolerances, with highly-repeatable manufacturing processes that produce quality, precision components demanded by our end use customers. With modern machinery, advanced quality controls, in house engineering and an experienced service personnel, we are able to efficiently manufacture close tolerance components – on time, to print and at competitive pricing.
Advanced Manufacturing Processes:
Springfield Spring & Stamping utilizes the latest inspection equipment and state-of-the-art manufacturing machinery as well as lean-production processes in production. Our quality engineers use laser measurement equipment, on-machine camera gauging and Keyence Imaging Systems which allows us to provide and SPC-consistent part measurement real time histogram reporting.