Precision Engineered Springs, Wire Forms and Stampings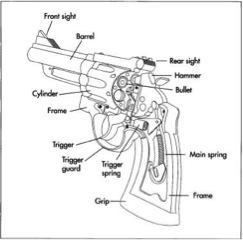 Springfield Spring & Stamping has been manufacturing custom firearms components including firearm springs, stamping and wire form for the firearms industry since 1942. Some of the most recognized firearms brands and weapon systems in the world trust Springfield Spring & Stamping to supply their firearm component requirements. We also produce replacement parts. Components are manufactured on state-of-the-art production machines guided by experienced technicians and supported with strict quality control guidelines. Our medical-certified quality management system insures 100% dimensional compliance with everything we make. As with a medical device, a firearm has no room for failure.
Why Springfield Spring & Stamping?
ISO 9001:2015 Commercial & Medical 13485 – registered quality management systems
In house, CAD supported tooling design
State-of-the art manufacturing equipment
Engineering design assistance, tolerance review & Design for Manufacturability (DFM)
Internal Model shop for quick-turn prototypes
24 – 48 hour RFQ response time
Over 75 years of experience servicing the firearms industry
Custom part-stocking programs and vendor-managed inventory
Custom-Engineered Firearm Components for Commercial & Military
Our custom manufactured firearm springs and components can be found in revolvers, pistols, shotguns, machine guns, bolt action firearms, pump action firearms, semiautomatic firearms, lever action firearms, assault rifles and derringers.
Critical Firearm Components Applications
Springfield Spring & Stamping has the capability of manufacturing firearm compression springs, torsion springs, extension springs, wire forms, magazine springs and stamping components for a broad cross section of firearms types. We have a limitless variety of firearm components we produce including, but not limited to:
Recoil Springs
Trigger Springs
Hammer Springs (mainsprings)
Action Returns
Anti Rattle Springs
Bolt Springs
Detent Springs
Ejector Springs
Extractor Springs
Firing Pins
Hammer Pins
Lock Pins
Plunger Springs
Reloader Springs
Safety Pins
Sear Springs
Selector Springs
Sight Springs
Slide Springs
Takedown Springs