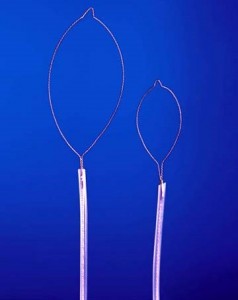 Share/Downloads
Springfield Spring & Stamping has a 20-year history of successfully manufacturing polypectomy snares for medical endoscopy device manufacturers.
Challenge:
The prevalence of "Managed-Care" health plans and commodity-driven colonoscopy procedures has significantly affected the profit margins of devices used to support this industry. Many endoscopy device manufacturers manufacture braided wire polypectomy snares by hand, or with crude and inconsistent manufacturing techniques. Polypectomy snares are difficult to form. The material is high tensile braided wire. Braided wire cable tends to "FREY" when the ends are cut. Final wire shapes sometimes need further hand-manipulation once the wire ends are crimped into the canulla tubing.
Solution:
Springfield Spring & Stamping has a 20-year history in manufacturing a wide range of precision stainless steel braided cable polypectomy snares. Our snares are used by some of the leading companies in the medical endoscopy industry. Snares can be produced in a variety of shapes and sizes including: mini, standard, jumbo, hex and crescent shapes. Springfield Spring & Stamping developed special forming tools using both automated and non-automated processes. High-volume snares can be accurately and economically produced in a variety of shapes, at 2,000 – 3,000 pieces per hour. This solution offers our customers a significant cost-savings.
Project Specifications
Click to Expand
Click to Collapse
Product Description:
Polypectomy Snares Used in Medical Endoscopic Devices for the Removal of Polyps.
Capabilities Applied/Processes:
Developed Special Form Tools for Medium and High Volume Production.
Overall Part Dimensions
Tightest Tolerances
Material Used
Mini
Standard
Jumbo Shapes
+/-.010
Stainless Steel Braided Wire Cable
Industry for Use
Medical Endoscopy
| Volume | Standards Met | Product Name |
| --- | --- | --- |
| 2000 to 3000 Pieces per Hour Production Rate | Customer Supplied Specifications | Polypectomy Snares |