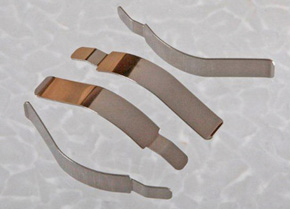 Share/Downloads
Fourslide Stamping for Increased Spring Rate
Springfield Spring & Stamping worked with the design engineering team from a world-renowned medical device company to develop a stronger and more consistent spring for a surgical stapling device. The spring component was originally designed as a fourslide stamping with a large radius. The radius on the spring acts to compress (flatten) and release as the surgeon uses a scissor-type action with the stapling device during the surgical stapling procedure.
Challenge:
The first generation spring in the device was made from Type 301 spring tempered stainless steel material (185,000 KSI). The spring did not possess the strength (spring-rate) the new generation device required. The part's shape could not be altered. Cosmetics were very important and the edges of the spring needed to be smooth and burr-free.
Solution:
Springfield Spring & Stamping changed the material to 17-7 PH high tensile stainless steel (210,000 KSI). Raw material is ordered to an exact +/- .003 wide strip with a #5 deburred edge. Parts are formed on a fourslide machine. The parts are precipitation hardened at 900-degrees F for one hour in vacuum. The vacuum hardening process ensures a bright and consistent surface finish. The part's final hardness after precipitation hardening is increased to 260,000 KSI. Parts are tumbled in mazor and a citric acid passivation cleaning is performed as the final process. The part spring rate increased by over 35% and the surgical stapling device met all of its fit and functionality specifications.
Project Specifications
Click to Expand
Click to Collapse
Product Description
This stainless steel spring is used within a surgical stapling device.
Processes (Primary)
Processes (Secondary)
Prototyped and Tested
Material Selection: Change material from 301 Full Hard stainless steel to 17-7 Stainless steel or Condition C temper
Fourslide Stamping
Precipitation Hardening (@ 900ᵒF in Vacuum/Final Hardness Becomes 260000 KSI)
Tumbling
Passivation Cleaning (Citric Acid Passivated)
Overall Part Dimensions
Raw Material(±.003" Strip)
#5 Deburred Edge
| Tightest Tolerances | Material Used | Material Finish |
| --- | --- | --- |
| +/-.003 | 17-7 PH High Tensile Stainless Steel (210000 KSI) | Precipitation Hardened |
Benefits
The Spring Rate is Increased by Over 35%.
Edge condition of final part much smoother.
Bright silver finish aesthetically pleasing in a medical environment.
Industry for Use
Standards Met
Product Name
Medical
Customer Supplied Specifications
Stainless Steel
Surgical Stapling Device Spring