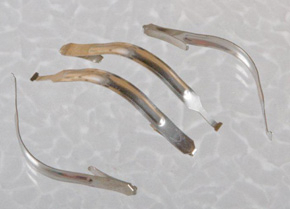 Share/Downloads
Custom Stainless Steel Leaf Spring for the Window/Screen Manufacturing Industry
Window screen springs are traditionally manufactured and sold to window screen companies in a few generic shapes and sizes. Common window screen springs are offered as either a corner mounted slide-in style or in side-mounted snap-in styles. For snap-in applications, two holes are punched into the screen frame extrusion. The snap-in style leaf spring has two elongated legs which are pushed into the punched slot holes.
The Challenge:
Springfield Spring & Stamping worked with the design engineering team from one of the largest replacement window companies in the United States to develop a custom slide-in leaf spring for one of their highest volume screens. Generic slide-in leaf springs sit on top of the extrusion track after insertion and easily move side-to-side. The company wanted a custom slide-in leaf spring that would be self-contained and align itself at the top of the extrusion track. The clip needed a stronger spring made from material that would not rust.
The Solution:
Springfield Spring & Stamping designed a custom slide-in leaf spring (PDF – 121KB) with a square box feature at its tail. The box end of the spring is slid into the underside of the screen extrusion track followed by the final insertion of the leg. This revolutionary new design aligns the spring and keeps it from moving side-to-side or up and away from the track. The new spring was designed with an integral embossed gusset feature that runs along its body length for added strength. The spring is made from Type 302, high tensile stainless steel to inhibit rust. After forming, the springs are stressed relieved at 500 degrees to add additional strength and durability. The customer was delighted with our solution and has currently migrated the new spring into all of its window screen products.

Project Specifications
Click to Expand
Click to Collapse
Product Description
This corner-mounted slide-in leaf spring is used to hold window screens in place.
Capabilities Applied/Processes (Primary)
Development
Developed Concept
Designed w/ a square box end feature to align spring in the screen extrusion track and keep it from moving side-to-side.
Designed w/ an integral embossed gusset for added strength.
Specified spring tempered stainless steel for rust protection.
Developed fit & function testing.
Capabilities Applied/Processes (Secondary)
Stress Reliving (@ 500°F to Add Additional Strength and Durability)
| Overall Part Dimensions | Material Used | Material Finish |
| --- | --- | --- |
| 2.900 | 301-High tensile stainless steel (185000 KSI min.) | In-line Stress Relived |
In Process Testing/Inspection Performed
Developed spring rate at solid deflection.
Benefits
Self-Aligning
No Side-to-Side Movement
| Industry for Use | Standards Met | Product Name |
| --- | --- | --- |
| Window / Screen Manufacturing | Customer supplied specifications | Slide-In Window Screen Leaf Spring |