Custom Springs, Stampings & Wire Forms for the Medical Device Industry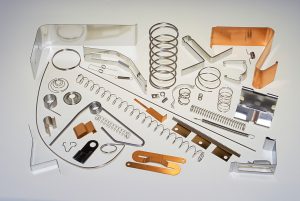 At Springfield Spring & Stamping, our approach to "Best-In-Class" for the stringent quality requirements associated with the medical industry, includes Black-Belt certified Engineers using Six Sigma, Lean Manufacturing and other tools within a quality-management system defined by our ISO 13485:2016 standards.
Why Springfield Spring & Stamping?
In partnership with Medical Device Development / Engineering companies throughout the USA
ISO 13485:2016 Medical Registered – PPAP submissions & validations
3 plant locations with a stand-alone Medical Division
We engage early in new product / component development
Rapid prototypes
Industries Served
Arthroscopy, Endoscopy, Drug Delivery / Dispensing, Laparoscopy, Catheters
CPR & Resuscitation Equipment, Cardiac Applications, Dental, Sports Medicine,
Medical Immobilization Devices, Robotics, Surgical Staplers, Wheelchairs
Medical Component Types
medical clips, medical wire forms, medical stampings, medical battery contacts, medical compression springs, medical torsion springs, medical flat forms, medical brackets, medical catheter shaping wires, medical polypectomy snares
Springfield Spring & Stamping parts meet the strictest drawing tolerances, with highly-repeatable manufacturing processes that produce quality, precision components demanded by the medical industry.
Our highly controlled and "validated" processes combined with state-of-the-art manufacturing equipment allow us to produce medical components with virtually any materials including standard, semi-precious and precious metals. With modern machinery, advanced quality controls, in house engineering and an experienced service personnel, we are able to efficiently manufacture highly-compliant parts at low prices.
Partner with Springfield Spring & Stamping when 100% medical component functionality and reliability is required (guaranteed)!
Product realization experts: from concept through commercialization
Meeting the highest standards of regulatory and specification compliance
Our goal is to reduce the cost to the end user, improve patient care, and ensure reliability
Advanced Manufacturing Processes
Springfield Spring & Stamping utilizes the latest inspection equipment and state-of-the-art manufacturing machinery and lean-production processes in the production of medical springs, medical stampings, medical wire forms and medical assemblies. Our quality engineers use laser measurement equipment, on-machine camera gauging and Keyence Imaging Systems which allows us to provide and SPC-consistent part measurement real time histogram reporting.
Many of our medical customers request special packaging service. We can ship parts in a variety of packing methods – including double plastic bags, on plastic trays or on tacky board. Labeling follows strict customer-specific requirements.
For additional information about any of our products or services, please give us a call at 800-282-3033 or simply fill out our simple contact form here and a member of our team will reply within 48 hours.
When medical device performance really counts – You can count of Springfield Spring & Stamping!